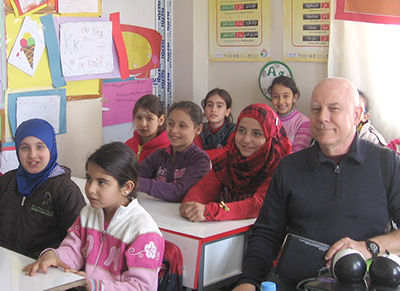 I mentioned in the first post on my visit to the city bordering Syria, how that the school we visited was a surprise. Clean, organized, a real testimony to the people who are running it. It just struck me as a sign of the resilience of these folks who have almost all suffered personally, often physically, or have had members of their families who've suffered. But they seem very determined to make an environment for their children so they can continue their education and to not be defeated by the horror and destruction going on in their country.
I took some photos of some of the drawings the kids had done which were posted in the hallways of their school. Often they were in English. One of them said:
Peace is part of love.
Peace cannot be controlled but it can only be made.
Peace is there.
Peace is here.
Peace is all over the world.
And another one said:
"P" Peace is calm and friendly.
"E" Everyone is joyful.
"A"  Always have a smile.
"C" Careful and nice, no hate is allowed.
"E"   Evil is not right
But what could we do in the time we had there? We visited several classrooms, including where they were learning English. There were 4 of us; 3 spoke Turkish and 2 also spoke Arabic. We told them that we loved them and that we were so amazed by their happy smiles and joyful spirits. It wasn't an opportunity or appropriate right then to speak on religious topics to these kids in their classrooms. But they knew we were different and had come to show love and solidarity with them.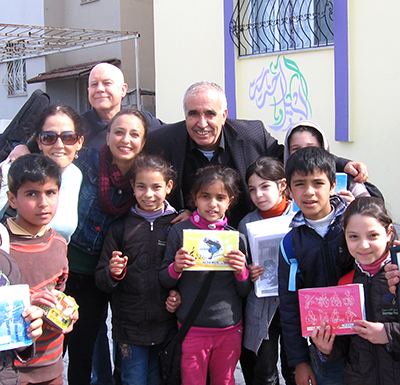 With the head teachers and administrators, we talked more. We asked what we could do to help. They asked if we meant financially, materially or psychologically. We said we didn't come from a large aid organization but were primarily volunteers. We brought with us several hundred dollars worth of school supplies for the children there, as well as clothes and goods they could pass on to the most needy in their community. We also gave a cash gift. We wished we could do so much more but this was what we had that we could share right then.
But we said we felt our strongest help could be in the realm of the heart, to let them know that millions are praying for their people, that they're not forgotten and that our hearts were broken for them and their people at this time. When we asked what we could do, one of them spoke up emphatically to tell us to stop the bombing of their villages and cities and to stop the killing. We said we would if we could but that was beyond our abilities.
At one point in our talk with the administrators, I somehow shared how I'd come to faith in God as the only solution that was able to help my life and that we all felt the ultimate solution to the crises that griped their nation was to somehow find the love of God and love for each other. These were things that they all agreed with, even though I got the impression that some of them had seen such horrible examples of vilely twisted religiosity in their country that they'd swung towards secular solutions and views as they rejected the twisted religious views they'd seen. Then again later we were able to speak with other members of the school staff and to take the conversation in the direction of faith and a loving God who can heal and deliver us from the worst of circumstances.
One thing we learned from the situation in Reyhanli and from other areas nearby is that there are a number of volunteers coming from various parts of Europe and even farther afield. Most of these are young people and it often has to do with things like teaching music, sports activities, trauma counseling, computer training, art and just finding ways to help young people to still be able to get on with their lives in spite of the collapse of their society at this time. The motivation of these volunteers ranges from simple humanitarian concern to spiritual/religious convictions of different types.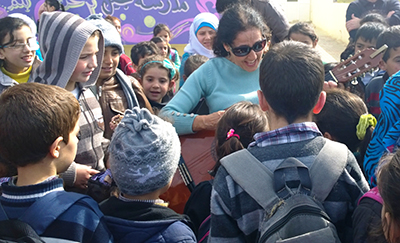 As classes were being dismissed, we were able to gather with a large group of young students in the activity area in front of the school. One of us had a guitar and we got going with some good songs, both in English and in Arabic. Some of the kids really got to rocking out with us. They knew some of our songs and gather round to sing loudly. At this time we also brought in the school supplies and materials that we'd brought with us to distribute. Later we talked more with some of the administrators and got more familiar with the situation, as well as finding out possible opportunities to come back and do more.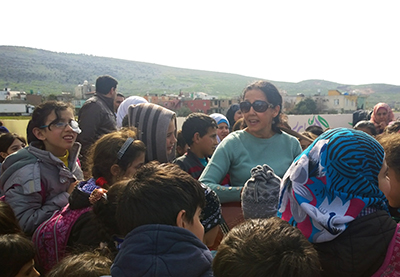 Afterwards it was still daylight and we considered visiting some other places in the region. But we felt what had happened already was a real answer to prayer and had gone well, perhaps more than we had even believed could have happened. So we agreed that we should "quit while we were ahead." Then one of us paraphrased that idea to fit our situation, that we should "quit while we still have a head". We laughed, somewhat quietly.
At the end of the day, as we headed back to our city, there was a feeling of peace and joy that we'd been able to go there, do what we'd been able to do, and then to get safely back out of a relatively dangerous situation. It seems like it is very rare for folks there to get visitors like us to their city and their people. My friends here will continue to be contact with similar groups and initiatives along the border where people with love and Godly concern in their hearts are doing what they can to bring light, love and practical help to what is one of the worst humanitarian crises I've seen in my lifetime.