I should be clear that I didn't visit the geographic nation of Syria. I was in a large town, just on the border, as seen in this picture. But there are over 3 million Syrian refugees living outside their country now. So in visiting a place where the majority of the city was Syrian refugees, it was visiting Syria in that sense.
I didn't really know what to expect. I can tell you that I did some pretty tall praying even before leaving the States for this trip. And then the day we went to this border town, that was another time of very serious prayer and looking to the Lord for His confirmation and then protection and blessing.
"Mark, that was naive and frivolous of you! Many people love you, Mark. And you just risked you life on some kind of foolhardy Christian joy ride! For what, Mark?"
Jesus said, "I was sick and in prison and you didn't visited Me." And then He said that "they will ask, 'When were You sick and in prison and we didn't visit You?'" And He said, "In as much as you did it not to the least of these, you did it not to Me." (Matthew 25:43-45) Or as He said in another place, "You shall love your neighbor as yourself." (Matthew 22:39)
"Mark, get a grip! They

aren't

your neighbor. They

hate

us and want to kill us, Mark!"
Friend, if you think that, truly you are the one that needs to get a grip. I went there because I had an unexpected "open door" (I Corinthians 16:9) from the Lord to go there. Besides that, this whole thing that's been going for the last couple of years has just grossed me out and "gotten my goat", to perhaps use strong language. So I wanted to get as close as I responsibly could, to see for myself how it is, to help all I could and to find what if anything I myself can do about it on the longer term.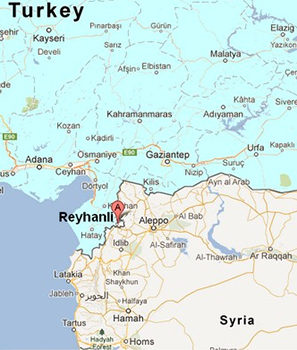 I was able to make a one day visit to Reyhanli, a town/city of originally around 63,000 people which has swollen to around 150,000 with the influx of refugees. If things were different, I might have aimed to stay there a couple of weeks, to try to do more. But that truly wouldn't be wise or safe. By the time you get that close to the situation and you're a Westerner, you run a real risk of getting kidnapped. The baddies in Syria will offer a very large reward for ones outside Syria who can deliver up Westerners which they hold for ransom or to ultimately execute publicly.
We were able to visit a very well run school for refugee children, within sight of the nearby Syrian border. On our way to Reyhanli we saw refugee camps along the side of the road, people living under makeshift plastic sheets and begging (or worse) at traffic lights and in towns and cities. But the school we visited was surprisingly well organized, with cheerful, focused children who sang us songs and tried to converse with us in English.
About half the staff of the school spoke English. All the women wore traditional Muslim clothes but they were very friendly to us and showed us how the school worked. They said they get almost no visitors like us. We also had some time of rather deep and intense talks with some of the administrators. One of them had had his house bombed by "barrel bombs", dropped by the government. Miraculously, no one was killed. But they took it as a sign it was time to leave.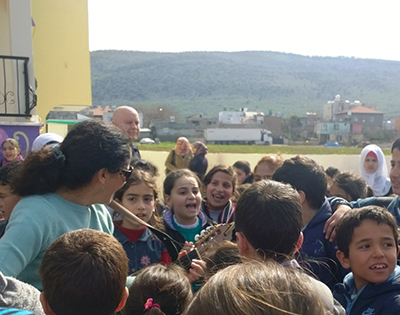 It seems like the funding comes from Syrians rather than any international or UN source. The school had been set up there for a few months and there are several others like it in the city. I've decided not to share the name of the school as the whole thing with this is a slight dilemma for me. I want to let you know how things are and what's happening. And in the case of this school, it was a real surprise to see these folks having gotten things going there so well.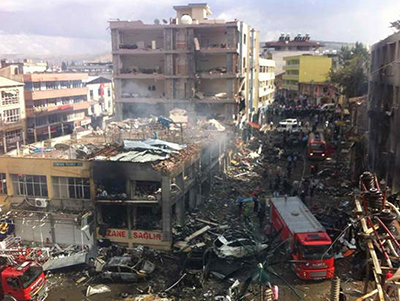 But on the other side, this is a very serious place. The city of Reyhanli had two car bombs go off there in 2013, killing over 50 and injuring around 150. You can read about "Reyhanli bombings" on Wikipedia for more info. It happened right off the main street through town and we drove by there several times. Also mortar rounds fired from across the border have landed in the city there at night. Our friends told us that they can see helicopter gunships and jet fighters which drop bombs on villagers just on the other side of the border. So I also truly need to think of the well-being of the ones we visited and the ones I've worked with here. For that reason I'm being less than fully explicit about some of this.
I should add that on Sunday, two days after our visit to Reyhanli, a bomb was found and diffused on a car there. This might be an encouragement to those of you who prayed for my trip. That's how important prayers are. Here's the link to the article about the bomb that was found. https://www.hurriyetdailynews.com/turkish-police-disarm-bomb-found-in-former-syrian-rebel-commanders-car.aspx?pageID=238&nID=79060&NewsCatID=341
It seems like there's a lot to write about what we saw and experienced that day. So I think I'll write another post with more of the details of what happened, what we learned, how we tried to help and how more help might be possible.