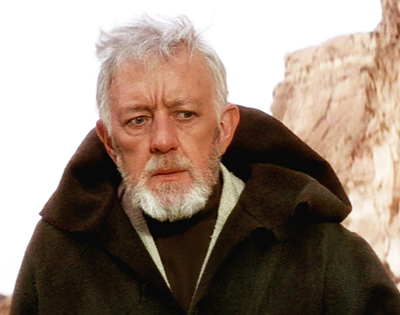 There he is, Obi-Wan Kenobi in his cave. Remember him? When you first saw him there in that movie, what did you think? "Hmm. Old has-been. Failure, washed up, driven into the wilderness."
But as we watched further, we found that he was an incredible guy. He had supernatural powers. He was extremely wise but also good. He was a survivor, a warrior, a master. Maybe he was in the wilderness but he still had some life in him, some purpose, fight and even destiny ahead of him.
But I think there are a lot of Obi-Wan Kenobi's in caves nowadays. Maybe that's not you but on the other hand, maybe you're one of a few I know who are. Seasoned disciples of Jesus Christ, years of Christian service in faraway lands, crowns already laid up for them in heaven from just what they've done with their lives already. But some are now in "caves", for one reason or the other.
"Oh, it's all over!" "That was then!" "I've made mistakes!" or "Others damaged my life." "So I've retired; the war is over! God can't really use me anymore. And besides, there's not really anything to do anymore. Those fields are now harvested so I'm back home now and just taking it easy till I die. That may be 20 or 30 years from now. But I've gone as far as I want to go."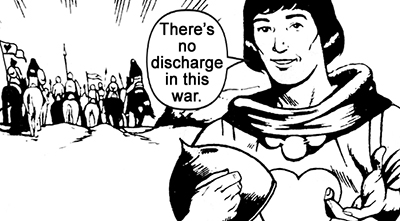 Obi-Wan in the cave. But along comes a new day, a new generation, a new need for Jedi masters. I'm convinced that this is the situation for perhaps quite a few people. I believe it was Solomon who wrote "There is no discharge in this war." (Ecclesiastes 8:8) Or, another way of looking at it is what Paul said, "The gifts and calling of God are without repentance." (Romans 11:29) When Obi-Wan Kenobi met Luke Skywalker, he seemed to come out of retirement. And from what I am seeing, there are a lot of Luke Skywalker Christians around nowadays who could really use some Obi-Wan Kenobi's.
When you've had a call of God in your life, when God has gifted, called and trained you for His purpose, He doesn't take that away. He needs every worker He can find. It's another thing for those who "…put their hand to the plow and look back". (Luke 9:62) But even then some return to that plow and return to that field because they know it was "…the high calling of God in Christ Jesus." (Philippians 3:14)
These thoughts came to me today on a phone call with some dear friends in Western Europe. They presently are very engaged in trying to do what they can to minister to the hundreds of thousands of refugees in their country. And you'd probably be surprised how well it's going and how receptive and thankful they are finding these refugees to be. They themselves are not really physically young. But their spirits are just tingling with excitement and expectation at the amazing things that are happening where they are. They aren't Obi-Wan Kenobi's in caves. They are fully energized Jedi Masters for Jesus, if you know what I mean.
We talked about ones we know, folks who have incredible gifts, experiences and unquestionable callings as disciples and servants of the Lord, some of whom are not really active or engaged in the things of the Lord in the way they were before. But for many that we could think of, they seem to be like Obi-Wan Kenobi in his cave. Alone, away from the arena of Christian discipleship where they spent years. They are gifted, inspired, anointed people but many are hardly using their spiritual gifts at all anymore.
The story is told that Alexander the Great died of a broken heart because he thought there were no more worlds to conquer. Of course he'd gone so far to the east but towards the west, he had hardly ventured and it wasn't too many more years before the Roman empire of the west conquered the Greeks.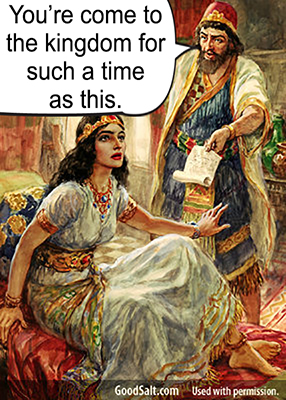 When we think there are no more worlds to conquer, that's not good. And when we lose the vision of God for our place and calling in this world, that's not good.
Mordecai told Queen Esther, "You are come into the kingdom for such a time as this." (Esther 4:14) Esther recognized the truth of this; she saw the reality of how important she was to His work. She seized her calling and crown and was the instrument God used for a mighty deliverance for her people at that time.
What can I say? God needs every one of us, but perhaps especially the ones who have served him for so many years, who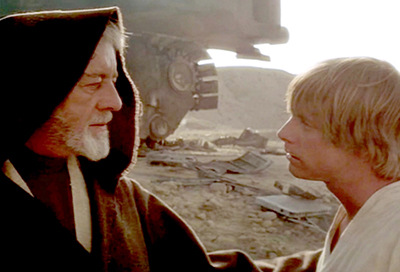 have so much experience, so much they could teach and use and put to His service right now in the events we see unfolding here in Europe. Can you please pray with me that if there are any Christian "Obi-Wan Kenobi's" who have retired to their caves, that they will hear the calling of God again and get back on the wall of His Will, to "die daily" (I Corinthians 15:31) in this incredible hour here in Europe when the need for experienced, grass roots Christian leadership in the field is very great. Thanks so much.