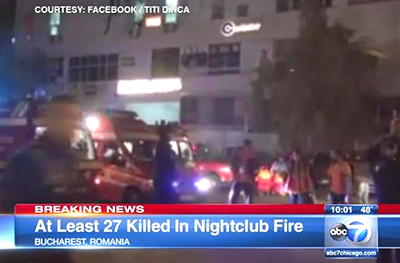 I just got off the phone with a dear Christian sister here in Bucharest. She's not only been the faithful Romanian translator of the videos I've been doing, she's a real friend and someone I greatly respect. She called to tell me that her oldest son was at the club in Bucharest late last night where the fire happened that took the lives of 27 young people.
She told me that her son had phoned her to tell her that he was ok, that he had been in the club until 10 minutes before the fire broke out but that he'd wanted to leave as he didn't like it. After the fire blazed and then was contained, he was back there at the scene to identify bodies, many of whom he knew. The son of my translator friend's sister is a teenage musician here; he and his band were scheduled to play at that club last night but it didn't work out.
My friend here, let's call her "Patricia", said it was a big Halloween party at the place and it was full of plastic decorations that burst into flames. 500 people were there and around 300 got out.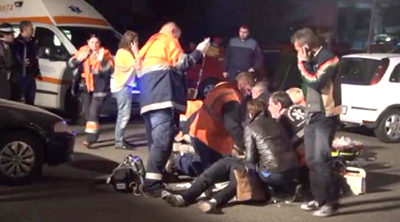 She said it's being said that a number of the ones who were injured are not expected to make it. Also, the song that the band was playing when the fire broke out is called "This Is The Day You Die".
Needless to say, this is a tragedy and traumatizing on many levels. I couldn't stop crying on this call from my friend as I know her and her kids very well, as do probably some of ones reading this blog. And since "Patricia's" teen age son, let's call him "Ernest", may perhaps later read what I write here, I want to respect his privacy and to be circumspect in what I write.
But the thought that came to me is that, as they say, "God has no grandchildren." It can't be your parents' faith and experiences that you build your life on. Each individual ends up having their own experiences that are the formative ones in their lives. That certainly is true with how I came to faith in God from an atheist background. It's often the deepest, darkest, most overwhelming experiences of our lives that are the crucibles in which we are shaped and molded.
Death for a Christian should be a different experience from that of an unbeliever and we who are the people of faith should really view it differently.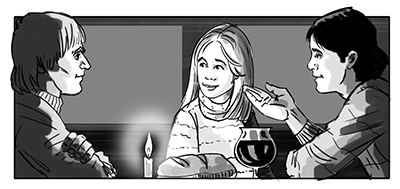 It's like what I wrote in "Tales from Trondheim", about the young man in Norway who was getting Christian training with my wife and I who went to be with the Lord around 48 hours after he left us. It was very traumatizing for us, very sobering, but we had peace and joy to know that he went to be with the Lord.
I don't know how it is for those young people who died here last night. This is a very Christian country in many ways and most of the ones I've met here have a deep reservoir of faith in God and in Christ. This country had a strong wave of Christian revival here during the 90's, after the fall of Communism.
I guess it's just hard to talk about right now. Emotions are raw and these are the children of people here in this city, some of whom were laid out of the sidewalks for identification as the hospitals were overwhelmed.
But I would like to ask you to please pray for my translator friend, "Patricia", and perhaps especially for her 17 year old son, "Ernest". There's a lot I won't share here about them as it's their personal life and the things they've already gone through in the past which have bordered on the unique. And now this. Please pray for them that the foundation they both have in the Lord will sustain them through this time as never before and that this tragedy, this darkness, will be a time when the light of God's truth and love will be more evident than ever before. Please pray for Bucharest and my friends here at this time. Thanks so much, Mark