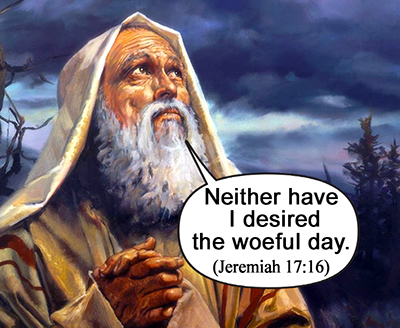 The prophet Jeremiah knew he would see the day when it was all going to happen. He wasn't prophesying something for the centuries to come; he knew this was it. God was about to bring His powerful judgments on backslidden Israel. And Jeremiah suffered terribly for the message of judgment and doom he gave to the people of Israel. If anyone could have looked with glee at the day of God's impending judgment and by-in-large destruction upon Israel, it was Jeremiah.
But did he? Jeremiah spoke in prayer to God, "Neither have I desired the woeful day." (Jeremiah 17:16) Jeremiah had the maturity and Godliness to not wish for and look forward to the horrific judgement that was about to fall upon his people by their God. And, frankly, it should be the same for those of us today. But I wonder if it is?
I've believed since I was in my 20's that some kind of judgment would be coming from God, not only on my country but on the countries of the North and West which were founded in a strong Christianity but have progressively fallen away from that, for decades and even centuries. At times over the years I've looked forward to the judgments of God being poured out on some societies and nations whose cup of iniquity must be truly full by now.
But also, in living in many lands, as well as reading history, I've come to see that it's a very sobering thing to actually be where the judgments of God, the horrors of war or natural disasters are being experienced at the moment. In the 1300's, a time when there was a falling away from the Godliness of earlier centuries, the Black Plague struck Europe and 1/3 to 1/2 of the population died.
That might be hard to comprehend but 11 years ago I worked as an aid worker and trauma councilor in a city that had just experienced that. An Indonesian city of 450,000 had lost one third of its population in one hour of gigantic tsunami waves.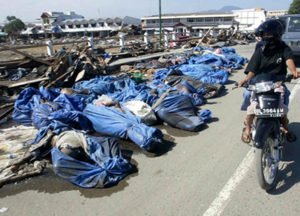 What was it like? Every day we'd see many teams of young men who'd been given plastic bags, boots and gloves. Their assignment was to go into the large buildings downtown that were on their list to bring out the dead. All day they stacked bags, with bodies inside, out on the street in front of the buildings all over the city.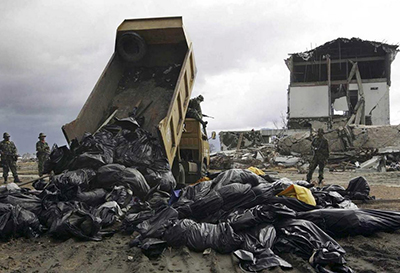 At 5 PM large trucks came by and they threw the bags up into the trucks which took them out to a huge mass grave near the airport. That particular mass grave ended up holding 55,000 bags. There were many teams like this; they started again the next day and this went on for 3 weeks. That's the kind of reality that can come with the horrors of war, the judgments of God or even natural disasters. I spent 5 weeks there during that time, working daily in refugee camps and I never could have made it without the mighty grace of God sustaining me for what was needed to be done.
So I now say, like Jeremiah, "Neither have I desired the woeful day." But sadly, it does seem like some believers in God here look forward to some kind of showdown with the government of the United States. Or they look forward to the fall of America. They talk about taking a militant stand against the government like it was the will of God to participate in armed conflict and that this would be the high calling of God for them and other Christians. Some really look forward to this, they "desire the woeful day."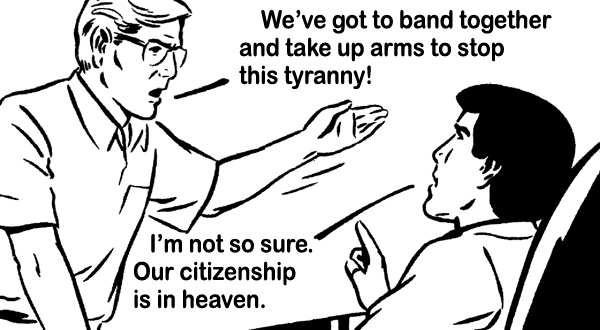 This deeply saddens me. And I'm not just going on hearsay; I've been in Christian gatherings where the details and specifics of this have been discussed. I did express my sentiments that what was being talked about does not reflect Biblical Christianity and that I strongly believe that approach to be anathema to the high calling of God.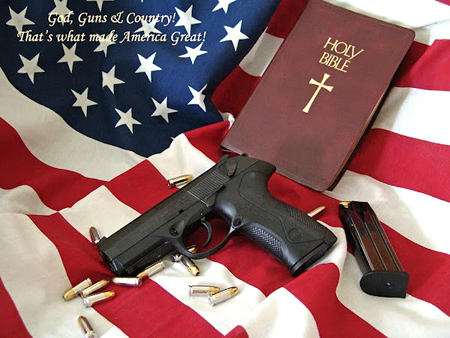 Some think that in taking up weapons against the United States government they are defending themselves against the very forces of the Antichrist spoken of in Revelation and Daniel. This is the pitiful result of a politicized twisting of Scriptures to fit a secular political agenda and it's amazing that so many Christians have bought in to this. I too believe in a final Antichrist and a final endtime government that he will head. But I don't believe the present government of the United States is the final fulfillment of what Daniel and Revelation speak of.
Our job, the job of fervent and dedicated Christians of these times is to stand up as some of God's greatest witnesses, to explain to people everywhere what is happening and what is to come.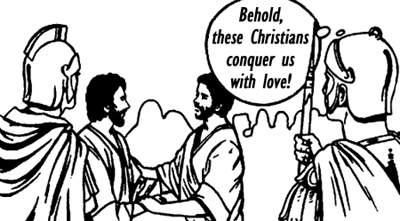 It's not our job to overthrow our government, any more that it was the job of Peter, James and John to try to overthrow either the Roman empire of their day or the hellish Pharisaical religious system that held the Jews in its power. It was love, truth, light, miracles and the acts and witness of heaven that overthrew both the religious system of the Jews and ultimately even the secular system of the Romans. "Not by might or by power, but by My Spirit, saith the Lord." (Zachariah 4:6)
If you're being influenced to turn your attention and your hatred against our modern government and it's failing political ploys, I sympathize with you. It's pitiful how things are now. But our job is not to take up arms against the government or even to spend precious time fretting, fuming and hyperventilating about it all.
Our job is to give this tired old world the answer we know we have: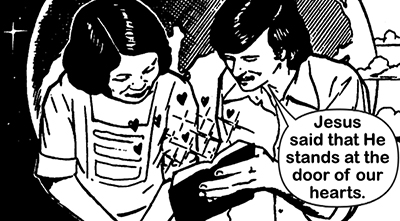 the Son of God and the judgments of God which will be poured out on this world, leading up to the worst time the world has ever known, just before the return of the Lord. If you have fallen prey to the haters, the "Christian militants" and to those who gleefully look forward to destructions to come, I suggest you powerfully pray and ask the Lord to cleanse your heart and to use you to His highest and best purpose. "Herein is my father glorified that ye bear much fruit, so shall you be my disciples." (John 15:8)
I know God's judgments will come on this world and nation, perhaps soon. But I don't look forward to it. All the present conditions that so many hate in society today may someday be looked back on with longing for the relative stability of these times. The future soon to come may be unsolvable continuing chaos, leading to a hardcore martial law which will be embraced by multitudes in those times. Jeremiah prophesied of the deserved judgments of God that were imminent. But he didn't desire the woeful day.