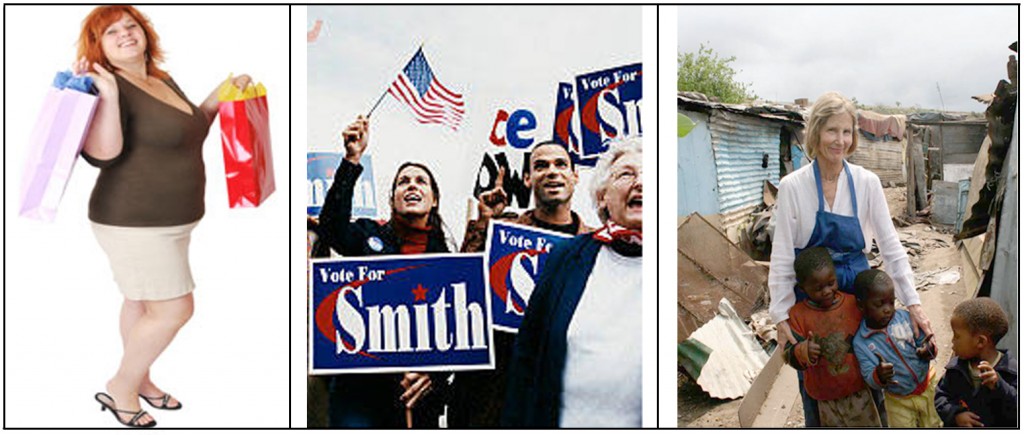 People in America nowadays are often referred to as "consumers". That sort of bothers me. When I read in history books about how folks in times past thought, it doesn't seem like they viewed humanity as consumers. Certainly I didn't get that feeling from my grandparents and their families.
If you go a little back in history, people more often thought of themselves as "citizens". This was a popular term in the times of the French Revolution and the first generations of the United States. People more and more realized their individuality and the need to participate in their society as citizens. Still in our times people talk about being citizens.
Certainly my parents' generation was strong on the idea of our democracy and the equality and rights of the citizens of this country. It seems like it's only been in the last 30 years maybe that the concept of seeing ourselves as "consumers" has come to compete with our sense of being a citizen.
But there was a time when neither of these concepts was supreme. In times past the vision of being a disciple was what was esteemed to be the highest identity we should espouse to. Let's face it, even the word "disciple" itself is pretty out of vogue nowadays. Sounds kind of weird, doesn't it? "Disciple." Really old fashion and rather suspect.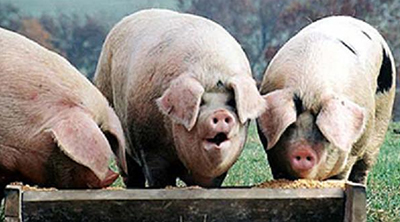 But how about that? What should be our priorities? How do you feel about being considered a "consumer"?  lt makes me things of hogs jostling around a trough. Sickening thought? Yes. But isn't that how a lot of modern living in the consumer society is becoming?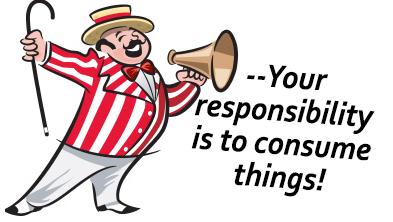 "Your responsibility is to consume things in order to help boost the economy. You'll find satisfaction and fulfillment in your next acquisition, your next huge meal at the restaurant, purchase of a new gadget or whatever material fulfillment has captured your heart!"
That's the bottom line that is pandered incessantly in our times. And unless you make a conscious effort to turn away from that vision, it will claim your heart and that's what you'll be: a consumer. You might say, "What else is there?" Well, for centuries one thing came first for a large part of this world: discipleship. The concept of being followers, disciples of God, and specifically of Jesus Christ.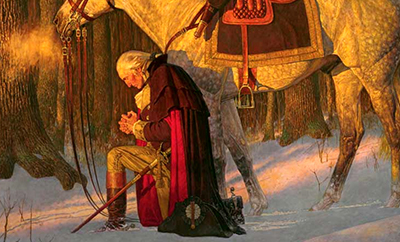 Now your reaction may be, "Oh but they were all hypocrites! There were all those wars!" You can sure get that impression if you read many books on the subject, written in our times. But if you read others, especially older ones or histories written in those times, you may be struck by the devotion and single-mindedness that comes across as being so prevalent then.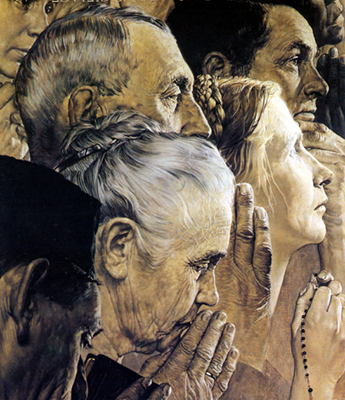 Hypocrites? There always have been those. Wars? When and where have there not been wars? But again and again from reading history (or even the contact I remember with my aged relatives from when I was little) it's how their faith in God, their desire to seek the ways of God and to keep their heart right with Him, in a good spirit, this was the paramount ideal to so many then.
And it often impresses me when I compare it to how we are taught to be today. If we all do our best to be good consumers, is that going to make a better world for everyone? Or if our goal is only to be a good citizen, how's that going to help when we meet people of another culture, country or faith?
There was a time in my life when I really was a consumer. Also I thought the end goal was to be a good citizen and make a better society. But both of those things, through no effort on my part, came to where they were "weighed in the balances and found wanting" my eyes. (Daniel 5:27) But discipleship, to be a follower of God and Jesus of Nazareth has been my quest and the beacon before me for over 40 years now. And I'm so glad for that.
Consumerism, nationalism and citizenship are all systems of thought that inherently are weak and fail because they fail to acknowledge the essential truth of our existence. We're not merely physical or social beings, we are spirits and souls who are made to love and live in the light of the God of Abraham and His Son. Anything short of that is doomed to failure.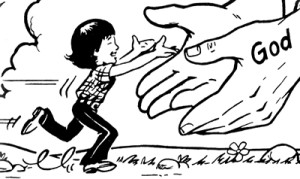 But truly loving and following God is destined to find a happy ending. If you're unfulfilled by materialism or disappointed with politics, I suggest you establish a relationship with the one true God. There's real fulfillment in that.