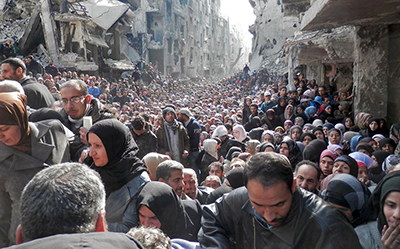 If there is anything that should mark a person with faith in God, it should be love. "God is love." (I John 4:18) and if you know and believe in God, that nature and essence of love should dwell in you too. It says of Jesus, "When He saw the multitude, He was moved with compassion upon them, for they fainted and were scattered abroad as sheep having no shepherd." (Matthew 9:36) And let's face it, that scenario is playing out before our eyes this very day in Europe as unprecedented waves of displaced migrants sojourn across mountains and borders in whatever way they can to reach what they hope will be safer lands than the ones they come from.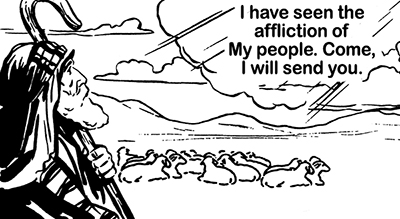 Over 3000 years ago, God spoke to an 80 year old shepherd who'd lived in a desert for 40 years, "I have seen the affliction of My people. Come now, I will send you." (Exodus 3:7 &10) God didn't send angels to deliver His people from their severe affliction. He called one of us, a flesh and blood human to be His instrument. And that man responded to the call, howbeit with some questions, with some trepidation. But it resulted in the freeing of the Hebrews from their affliction, one of the mightiest works in history where God and man worked together to "set the captives free". (Luke 4:18)
But sadly it's perhaps more common in history what was said 1000 years later. Speaking to those who observed the desolation of Jerusalem by Babylon, Lamentations 1:12 says, "Is it nothing to all you who pass by?" Foreigners passed by the destruction of the Hebrews and it meant nothing to them. Rather like the Pharisees who "passed by on the other side" (Luke 10:31 & 32) when they saw the beaten man on the road to Jericho. But the Good Samaritan stopped to help and he's been remembered for his kind deed ever since.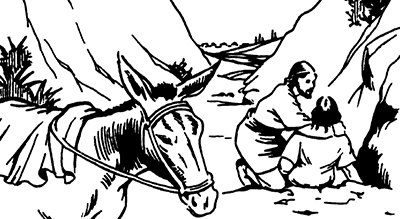 Are there any good Samaritans today? Or will the people of our generation just "pass by on the other side"? This is one of the things that drove me to visit the Syrian border that I wrote about a few months ago in "Visiting Syria". Now I've moved back in Europe, for a number of reasons. But one of them is to try to do what I can in this historic and heartbreaking time.
Jesus said of one woman, "She has done what she could." (Mark 14:8)  I can tell you with joy that I know already of some friends, people of faith, who are beginning to do what they can here in Europe. I have a friend in Sweden who's taken the initiative to start passing out tracts to refugees who've come to that country. Another long time friend in Austria is now doing the same thing with her husband. Others I met recently from Berlin, as well as friends in Hungary, are stirred in their hearts to take action there at this time. We can't just pass by the man on the road to Jericho. Paul said, "The love of Christ constrains us." (II Corinthians 5:14)
But you can think or even say, like they did long ago to Jesus, "What are these among so many?"  (John 6:9) There was a multitude to be feed but they only had five loaves and two small fishes. So they said, "What are these among so many?" Well, in that case, the Lord multiplied those loaves and fishes and fed the multitude.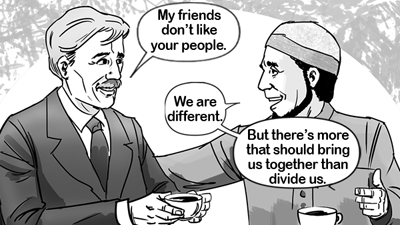 Today, what difference will it make if a few dear souls, scattered out around Europe, go out to visit refugee camps to help in what way they can and to also share the hope of the Gospel with those people? Well, it's a start. They'll help someone today if they do that. They won't turn the tide and solve the problem. But they'll help someone today. And they will be obeying God and His admonition and commandments that are the foundation of the Old and New Testament: "You shall love your neighbor as yourself". (Mark 12:31)
And who knows? Maybe the efforts of those few will inspire others. Maybe they'll be so blessed by God for doing what they can that others will catch the vision. Maybe they'll start communicating among themselves, sharing how things have gone in their witnessing, what's working in these situations and what isn't. Maybe this is one of the most golden opportunities in our generation to share the love of God with folks we'd never be able to be in contact with any other way.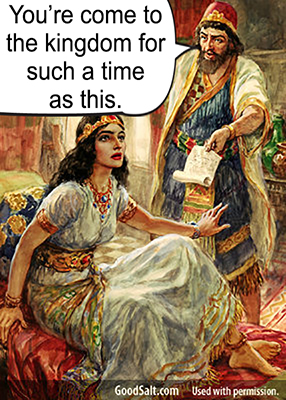 So I've been happy to hear from friends around Europe in this first month I've been back here that, for many, their hearts are being touched by God in this time. They feel, like it was said of Esther of old, "You are come into the kingdom for such a time as this." (Ester 4:14)  This may be the time when the grace and calling they've had in their lives comes to the fore more ever before, when they are the instruments of God's peace to reach a people who could have never been reached any other way. At a gathering of east European Christians I was at last week, this was a subject that many felt strongly about.
For some, this may be their finest hour. But many are saying what a horrible time this is, what a danger, what a conspiracy, what a doom. But perhaps in God's eyes, for some of His people, this is an opportunity that's never happened before to "let your light so shine before men, that they may see your good works and glorify Your Father which is in heaven." (Matthew 5:16)
What Jesus said 2000 years ago to the believers is still true, "You are the light of the world" (Matthew 5:14) . But He has no hands but your hands, He has no voice but your voice, He has no feet but your feet in this day and age. Jesus said to his disciples during a very rough time when so many were leaving Him, "Will you also go away?" And Peter said, "To whom shall we go? You alone have the words of eternal life." (John 6:67 & 68)
Except perhaps today, these pitiful multitudes coming to Europe will say to the Christians here, "To whom shall we go? You alone have the words of eternal life." May the mighty God of Abraham stir up His saints to rise to this occasion and pour forth His love and truth to these multitudes, coming to the shores and lands of Europe.
(I'd like to hear from Christians in Europe who've been moved by God to "do what you can". Have you found some way to help and even to bring the truth of His love to these ones pouring into this part of the world? If so and you have time, please send me a note about it. Thanks.)