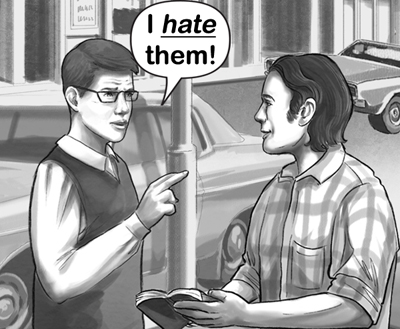 Years ago in Denmark my former wife and I were ministering to a recovered morphine addict. We read the Bible with him and tried to help him in his recovery. But, although he no longer used morphine, he was drinking up to 20 cups of coffee a day. In some sense, he'd traded one addiction for another. It seems that's how it is for multitudes of people when it comes to hatred. Vast numbers of people think of themselves as good citizens, faithful to their wife or husband and keeping the law.
But, boy, they love to hate. Around a year ago my dad passed away and I wrote a post about him, Bonner McMillion. One of the main things I mentioned there was how my parents taught me not to hate African-Americans at a time when virtually every white person I knew in our city was filled with racial hatred to one degree or another.
But today, hatred of blacks by whites is much less than it was when I was growing up. It's not in vogue anymore, it's less accepted. But it's surely still ok to hate, perhaps more than in the past. Pew Research recently made a study and found that the USA is more divided as a nation than any time in the last 150 years. I wonder how much of that has to do with a thriving cultural acceptance of hatred.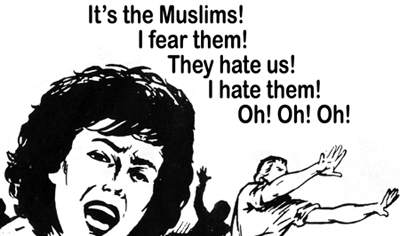 The most popular hatred here in the States seems to be hatred of Islamic people. "They" are here. "They" will destroy us. But some people feel that way about Catholics. Years ago it was popular to hate Jews. That was normal and accepted. We just seem to stop one addiction but move on to another.
You could say a lot of things in support of hatred, at least if you are not a Christian. Shouldn't we hate "them"? Here's what the Bible says, even the Old Testament. "You shall not hate your brother in your heart." (Leviticus 19:17) It's one of the greatest truisms of Christianity that it teaches love. Jesus said, "Love your enemies, do good to them that hate you and pray for them that despitefully use you." (Matthew 5:44)
If you're a Christian, and your life and words are full of hatred, then you're living in sin, just as much as if you were an adulterer or whore monger. You're just as defeated by your addiction to hatred as that man was that I ministered to years ago who was addicted to morphine first and then switched to coffee.
But, in a sense, you have my sympathies because "everybody else is doing it." You're mostly right on that; they are. But that surely doesn't make it right if you're trying to follow the light and path of the God of the Bible.
But Mark! Surely all hatred is not wrong!
Right again. Let's look to God's Word about that. Psalm 97:10 says, "You who love the Lord, hate evil." Does it say to hate Muslims there? Or Catholics? Blacks? Jews? "Dagoes"? "Spics"? "Wops"? "Krauts"? "Chinks"? "Ragheads"? Obama? Or whatever your favorite hatred is? No. It says to hate evil, not people. God even "sends His rain on the just and the unjust". (Matthew 5:45)
Does God hate? Yes, He does. Here's what God's Word says He hates. "These six things does the Lord hate: yea, seven are an abomination unto Him: a proud look, a lying tongue, and hands that shed innocent blood, a heart that devises wicked imaginations, feet that be swift in running to mischief, a false witness that speaks lies, and he that sows discord among brethren." (Proverbs 6:16-19) We are to hate sin, as God does. But not people. We are to love people, in our hearts.
But Mark! I really hate them! All my friends hate them! TV commentators hate them! They are evil, Mark!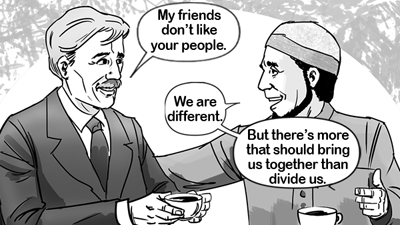 My friend, this is a modern, virulent, satanic mindset that's blinding and will snuff out God's blessing and presence in your life, if it hasn't already. You need to be "renewed in the spirit of your mind." (Ephesians 4:23) You might need to turn off the TV, make new friends and move away from the old ones, just as if they were drug dealers or criminals.
If you love to hate, if you cultivate and nurture hatred, if you propagate hatred and start conversations with words about your hatred, then please don't call yourself a Christian. If you're doing this, you're a reproach to the cause of Christ; you're a mockery of what it is to be a Christian, no matter how outwardly righteous you appear to be. The evil you should hate is the hatred that has gripped your heart. Call out to the Lord Who can break every chain and cleanse ever stain. Flee hatred as you would drugs and ask the Lord to replace it with His love in your heart for all men, as He had.