This won't be a normal blog post, just a short update. I've been on the other side of the Atlantic from where I am normally.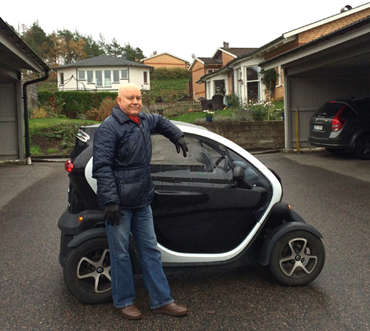 Right now I'm in Gothenburg, Sweden, visiting two of my sons and their families. I landed in Oslo, Norway around 10 days ago and visited with my daughter and son and his family who all live there. And I'm planning to visit friends in Hungary before flying back to Texas.
I'd better explain about that picture there. It is actually a car, made by the French car maker Renault, called a "Twizy". My youngest son drives it to work; it's electric and really a novelty. I rode in the "backseat" all the way into town from the suburbs with him and it was fun. Actually, it's closer to being like an advanced electric go-cart than a car but it's in the classification of a motorcycle and parks in motorcycle places. People stare at you and come to talk when you get out of the car.
I'm having fun. The visit with my kids has gone really well and we've had a continual good level of interaction. I guess we just grow up and want to have a better time when we are together than at times in the past. Also the opportunity to get to know my little grandsons has been really nice; they are at a very sweet age in their lives and it's been fun to be able to have time with them.

One interesting thing that happened today was that I went with my youngest son and his wife and little boy to the kindergarten that my grandson goes to. They have recently been taking him to one run by a local church affiliated with the state church of Sweden. I was actually rather surprised as I have perhaps been a little negative or hopeless about what I have known of Christianity in this part of the world.
If you read what I wrote in "A flock of whooping cranes" last year, I mentioned in there how that for what I knew, Christianity was on its knees or beyond that in this part of the world. Well, this morning I saw that it's not quiet that bad.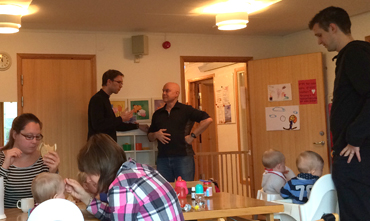 I ended up having a short chat with a local Swedish priest in his 30's who is a very dedicated and committed guy who said he was called by the Lord to his place of service, almost reluctantly.
The kindergarten was full of young couples with very small children as there was a short service of children's songs in the small church connected to the kindergarten. It was encouraging and surprising to see faith in God to be more prevalent in Scandinavia than I had thought it was.
If all goes well, I'll be back in Austin soon and then will have more time to give to blog posts and communications. I hope you are all dong well, thanks so much for your prayers. Your friend, Mark