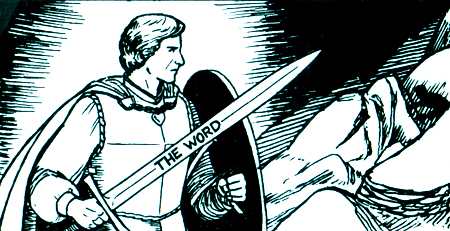 From time to time as a kid I'd hear the phrase, "the bogey man will get you if you don't watch out." Of course, even as I child I knew there was no "bogey man." Still, there's kind of a flip side to this here. Because, in actuality, there are a lot of things that will "get you if you don't watch out."
Many Christians know what the Apostle Peter said, "Be sober, and be vigilant, for your adversary the devil, as a roaring lion, goes about, seeking whom he may devour." (I Peter 5:8) But sometimes we find in our lives is that the "evil spirit" we have the most problem with is often our own personal spirit, our own dull, rebellious, ornery nature. And sometimes this can even be true for the saved. Jesus' disciples rejoiced that "even the devils are subject unto us through Your name". (Luke 10:17) But our own selves are often the spirits we have the most trouble with. This is all related to how I incurred the shoulder injury 8 months ago that caused the need for the surgery I had a few days ago. I wrote about this experience recently in "Pain and suffering".
It was nothing sinister I did and that's all the more reason why it's worth sharing this as I think a lot of us may be guilty of such things from time to time. What happened? You're going to be disappointed. I was taking a heavy grocery bag out of a shopping cart when I took a bad angle on it and suddenly felt a big pain in my shoulder. I thought I'd strained a muscle, something most of us have done at some time. But this just never healed up. I was due to move to Europe in 6 weeks and I thought it would get better but it didn't. Now it's turned out to be the biggest injury I've ever had, at least in the way of pain, debilitation and time lost for the Lord's service.
Why did that happen? How can it be that, when the Lord has so protected me in numerous places around the world where legitimate danger was very real, I end up getting hurt pretty bad in a grocery store parking lot? There is an answer to this. It's called "the unguarded moment".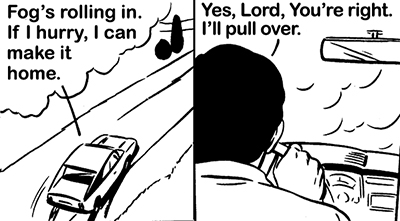 For Christians, the Bible says "We are sealed by the Holy Ghost." (Ephesians 1:14) "The angel of the Lord encamps about them that fear Him and delivers them." (Psalm 34:7) For those who are His, there's a tremendous amount of protection and power that's ours. But there are at least some conditions. "Walk in the Spirit and you shall not fulfill the lusts of the flesh." I wasn't taking drugs or drunk when this accident happened. But I've realized that I was not sufficiently walking in the Spirit of God at the time like I should have been.
Jesus told His disciples, "Watch and pray that you enter not into temptation; the spirit indeed is willing but the flesh is weak." (Matthew 26:41) For many of us, we can think that this means, "Oh, if a drug dealer or a prostitute came up to you there in that parking lot, you wouldn't be tempted by them!" That's not what happened but still something very serious did happened. "The curse causeless shall not come" (Proverbs 26:2) so what was I doing, or not doing, that brought this on?
Basically I was dull in my spirit right then . I was "entangled with the affairs of this life" (II Timothy 2:4) to the degree that I missed whatever check the Holy Spirit could have given me right then that I was making a dangerous move with the heavy grocery sack. Even with my personal limited knowledge of weight lifting, I should have noticed that my angle was bad in lifting the bag. But I must have been dull at the time, my mind somewhere else and overall being in a false sense of security in familiar surroundings, doing something I'd done so many times before.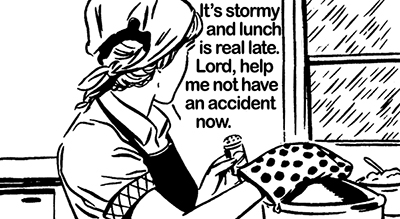 There are always things which must be attended to; we live in a physical world and we can't be drifting around on some spiritual cloud in perpetual trance-like mediation. But for those who are His, it just doesn't pay to ever neglect our link with the Lord, even for a moment. We are to "pray without ceasing". (I Thessalonians 5:17) This doesn't mean being down on your knees, frantically calling out to God all the time but that we're walking in an alert spirit, "in all our ways acknowledging Him" so that "He shall direct our path." (Proverbs 3:6) "You shall hear a voice behind you saying, 'this is the way, walk in it.'" (Isaiah 30:21) Well, I didn't hear His voice that day because I was inadvertently dwelling in my carnal mind and the affairs of this life so the Holy Spirit was less able to get through to me and I've suffered for it ever since.
Did the devil do it? No, it was my mistake. It's so easy to be lulled into a false sense of security when we're on familiar ground and doing things that are so commonplace to us. But that's when we can suffer some of our worst mistakes, in those unguarded moments when we let down our shield and are dull to our surroundings. So, as it turns out, there certainly are some things that "will get you if you don't watch out." It reminds me of what Jesus said, "What I say unto you, I say unto all. Watch." (Mark 13:37)