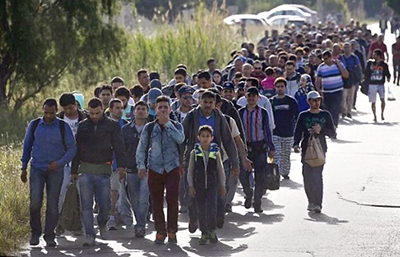 This month-long road trip around Europe to do recordings, visit friends and work with refugees has been great. But also at times it's pushed me near to my personal frontiers of endurance and strength. It's reminded me of what the prophet Jeremiah spoke to Israel long ago, "If you have run with the footman and they have wearied you, then how can you contend with horses? And if in the land of peace in which you trust they have wearied you, what will you do in the swelling of Jordan?" (Jeremiah 12:5)
For a few days last week I was at a refugee camp of about 1000 people, serving lunch there. My fellow food servers were from Tikrit and Kirkuk in Iraq, Yarmouk refugee camp in Damascus, Khan Yunis refugee camp in Gaza. We had a pretty good conversation about life and God when we had lunch together afterwards. I gave out Gospels of Luke in Arabic to the ones of them who hung around and with whom I had deep conversations.
One of my goals in being at the camp has been to do as I did on the Macedonian/Serbian border 3 weeks earlier, to mix and mingle there and to find ways to pass out Gospels of Luke in Arabic to these ones.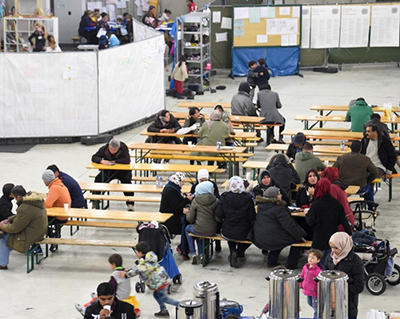 After serving lunch a few days ago, I was later sitting at a dining table, talking to some Syrian refugees. One young man told me he'd graduated with a law degree from a university in Damascus and he asked how it could or would work out to use this in Germany. I told him I didn't really know but it would take time and patience for him to be able to do that here. The young lawyer told me that his brother had been shot dead by ISIS troops and that he himself had been shot twice but survived.
Sometimes when there are 5 or 6 Arab men you're talking to, it's not perhaps the easiest and best time to pull out Gospels of Luke and give them out. On the other hand, maybe your confidence would run that way and you'd have the faith for that. My experience is that when there's a group like that, they react differently than when you're in a one-on-one conversation with someone. So as much as I wanted to turn things more towards the spiritual, it just didn't work out. But I determined to remember their faces and see if I could find some of them later when they were not all together.
And I was feeling tired, really tired. So often "the spirit of a man will sustain his infirmities" (Proverbs 18:14) and the Lord just keeps you going by the Spirit long after the flesh would like to stop. On the other hand, it can happen that you just run out of steam and the Lord in His wisdom pulls things back a little as you really are at the end of your resources. For me, the days and weeks of living out of a backpack and moving from place to place a lot during winter in Europe have been catching up with me a little. And I just could really feel it yesterday that I needed to pull back a bit and "quit while you're ahead", as they say in some places.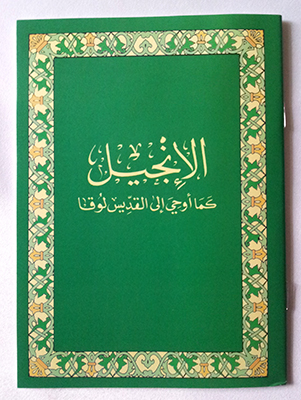 But also I wanted to do a little more to get out the Gospels of Luke I'd brought. Then, as I got ready to go, I saw one of the Syrian men who'd been sitting at the table with me earlier. He was an older guy and spoke no English. But he was sitting by himself now and he just kept looking at me. So I took that as sign from the Lord and went over and gave him a Gospel of Luke. He took it in his hand, looked up at me with a deep look and then put it in his pocket. I felt better.
And again, literally going towards the door leading out of the camp, I saw another Syrian man who'd sat at the table with me. I was able to give a Gospel of Luke in Arabic to him also. And again I felt better. I was pretty exhausted as I walked back to my place here. But like Solomon said, "The desire accomplished is sweet to the soul". (Proverbs 13:19)
This morning I feel better physically. And I was thinking about that verse, "the swelling of Jordan". That's how it is now, the swelling not only of Jordan but much of the Middle East, fleeing the terrorist insanity of their lands, looking for refuge here. And like the verse says, "what will you do in the swelling of Jordan?"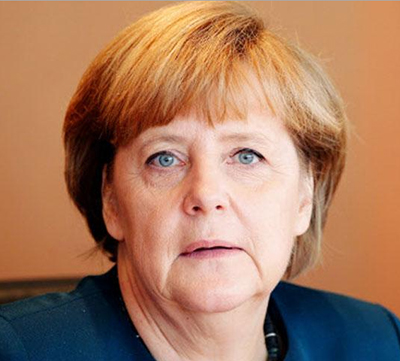 I've been really surprised by the response of the Germans, both their Prime Minister (I wrote about her in "Merkel's Call") and the people themselves. Even with all these refugees who've come here, they took in 1.1 million last year, they say the number of those who've volunteered to help in Germany is more than equal to the need. I've had to "eat crow" a bit with some of my thoughts about Germans that I've said in the past. They've shown a Godly civilization and compassion that in some ways astounds me in this day and age.
As weakened and fragile as Christianity and humanity have seemed to be in our times, some at least are responding with vigor and empathy to this great event and opportunity now happening. Hopefully it won't only be with food and blankets but also with the saving truth of Jesus Christ and God's Word which is the only thing that can really reach down and bring a new, transformed life to all those in direst need.