[On November 14th I was going to publish this. But the sad events in Paris, France a few hours earlier were so vivid and visceral that it seemed to not be the best time. I've left it unchanged. It's definitely a "minority report" but, I believe, very needed to challenge us to turn the evil tide of these times.]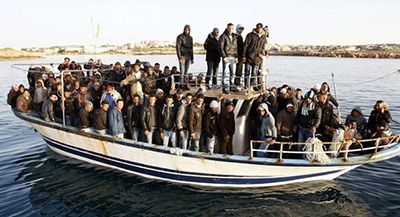 Have you seen all the articles and posts about the fear of terrorist infiltrators among all the refugees coming to Europe? You can't really miss it. And, don't get me wrong, I don't doubt that there are ones like that among all those coming to the West right now. I don't doubt that at some point there will be attacks in the West, perpetrated by Islamic radicals.
But allow me to give you something even greater to fear and be shocked at. Where are the people of God who feel challenged by all this, to rise up as His true witnesses and to win as many of these people as they can to Him?
Most people love fear, rage and nationalism/racism far more than they love to be challenged to live their faith in God. Fear and hatred sell and are sadly popular. People need to be told who their enemies are, right? But this gets even more personal; bear with me.
It would not really be correct if I said, "I once was a terrorist".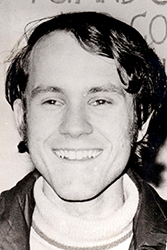 But when I was going to university, I was getting real close to circles of people who would today be called that. It was the height of the anti-war movement in the late 60's. I was in university but working as a writer and editor on the most well-known "underground newspaper" in the state of Texas. I helped write it, put it together with a group of about 10 people, drove a van across central Texas to get it printed and then sold it on the street.
"Mark, that's so innocuous. Mark, Muslims

HATE us and want to KILL us!"
At one point there was a major riot/demonstration at my university. Thousands of students stormed the main building. The police came, then the National Guard surrounded the campus and it was on all the national news services.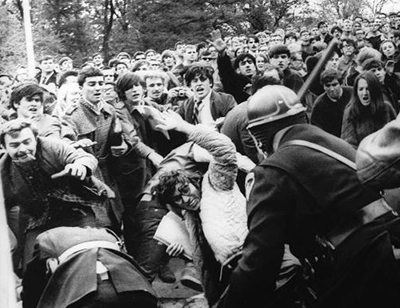 I was one of 6 people who were inside the main administrative building, negotiating with the president of the university.
During that fall, the organization "Students for a Democratic Society" held their nation conference just off our campus. I went to their meetings and to the private parties afterwards. I met the top leadership, some of whom were soon to end up on the FBI top 10 wanted list as leaders of "The Weathermen". I was very drawn to these people as I was very grieved by the events of the times.
Back then two guys approached me who said they were soldiers at nearby Fort Hood, one of the main US Army staging posts for the Viet Nam war. They said they were part of the underground movement. "Give us the LSD and we'll give you the machine guns", they told me. Almost certainly they were undercover FBI guys. But that's how my life was back then.
"What does this have to do with Islamic migrants and terrorism?"
This. I wasn't into killing people or violence. I was just desperate for truth, justice and the triumph of good over evil. And through it all, the God of Abraham saw my heart and brought me first to Him, and then months later to His Son.
I believe and know with all my heart that within this multitude of people coming to Europe and the US from the Middle East, there are many, perhaps very many who are as desperate and heart-sick as I was in my youth.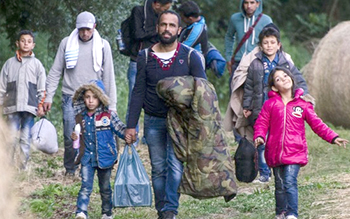 And somebody witnessed to me back then. Somebody didn't look at my longish hair and strange ways; they looked into my heart and saw a desperate, needy soul.
But my question is, will there be people in our times who can look past all the propaganda, hatred and fear about Muslims and see instead a multitude of people who God Himself has allowed to come to our lands?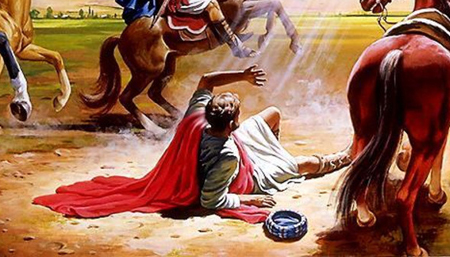 I was virtually on the road to being a "terrorist" in my youth but God intervened and brought me to Him. Saul of Tarsus sure must have seemed like a terrorist to the early Christians. But God saw his heart, knocked him off his high horse and called him to be His servant. But there had to be Christians back then who could see the hand of God in this and who accepted Paul as their new brother, rather than the "terrorist" he had been.
Is it Scriptural to share our faith with terrorists? Is it in the Word? First, for those who keep up with these things, it's common knowledge that Jesus Christ has been way out in front of all of us on this for years.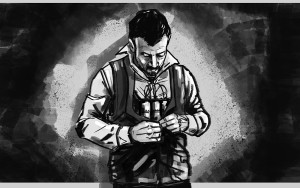 For years, Muslims all over the Middle East have been having living, life-altering experiences with the Son of God. This is what I wrote about in "Suicide Bomber Sees the Light".
And it was the same way at the time of the Early Church. Christ Himself was way out in front back then as well and dramatically appeared to one of the very worst "terrorists" of the Early Church. But then what happened? Let's have a short Bible study on that and see if it applies to today.
Saul had been blinded by the Light of the Lord and had been led into Damascus where he was for the next 3 days. We pick up the story at Acts 9:10
And there was a certain disciple at Damascus, named Ananias. And the Lord to him said in a vision, "Ananias". And he said, "Behold, I am here, Lord."
And the Lord said unto him, "Arise and go into the street which is called Straight and inquire in the house of Judas for one called Saul, of Tarsus. For, behold, he is praying and has seen in a vision a man named Ananias coming in and putting his hand on him, that he might receive his sight."
Then Ananias answered, "Lord, I have heard by many of this man, how much evil he has done to Your saints at Jerusalem. And here he has authority from the chief priests to bind all that call on Your name". But the Lord said unto him,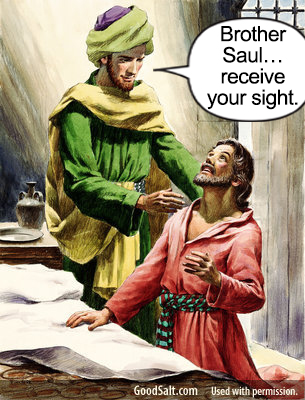 "Go your way; for he is a chosen vessel unto Me, to bear My name before the Gentiles and kings and the children of Israel. For I will show him how great things he must suffer for My name's sake."
And Ananias went his way and entered into the house. And putting his hands on him said, "Brother Saul, the Lord, even Jesus, who appeared unto you in the way as you came has sent me, that you might receive your sight and be filled with the Holy Ghost." And immediately there fell from his eyes as it had been scales. And he received sight forthwith, and arose, and was baptized. And when he had received meat, he was strengthened. Then was Saul certain days with the disciples which were at Damascus.
We hear so much about Saul and his Damascus road experience. We are all thankful for Paul. But when Saul became Paul, God needed an Ananias. Today that should be you and me. How would it have gone if there had not been ones like Ananias and others who were willing to be led of the Lord to minister to this man who had been their feared, fearsome enemy until then? This can be one of Christianity's finest hours if there are those who will see God's hand and this opportunity from Him to share our faith with these ones.
Could there be danger? Yes. Will they all become Christians? No. But, I challenge you here: watch not only for some future terrorist attack from Muslims coming to Europe. Instead, watch to see to what degree Christians rise up to love, welcome and share their faith with these ones in this hour.
If the Christian response is anemic, halting and virtually non-existent, then that in the realms of heaven may be far bigger news and a greater disappointment than any terrorist incident. If God's people are so defeated and uncaring that they don't let Jesus in them be the Light, Love and Truth that so many of these poor souls coming to these lands so desperately need, then God help us all.