All my life, truth has really been important to me. I haven't believed in God all my life, but I have believed in and reverenced the truth. That's one of the reasons why, when I came to God, the God of the Bible, it had such an overwhelming impact on me.
Here was raw, pure truth to have and love and swim in for free. At last I had found it. I soaked in it, reveled in it, memorized it daily and shared it thrillingly with everyone I could.
But it also underlined to me, even more, the darkness that the world and the nations live it. I already knew this in many ways but this just made it clearer. I come from a family of journalists, grew up around the media and worked in the newsroom of a large daily newspaper when I was going to university. This was all before I came to know the God of Abraham and then Jesus. And being back here in the States after 36 years abroad, it's a heavy feeling of sadness to see the degree of constant disinformation that most Americans consume each day. And then think they're informed.
"You are what you eat" and you are also what you read, listened to and believe. It grieves and saddens me so much to know how very many Christian brethren here are less than fully informed of the world we live in, by their choices of where they get their information from.
Lies can come in many forms. It was Hitler that said, "If you are going to tell a lie, tell a big one that no one would believe you would say unless it was true". But there are other kinds of lies, where the truth is shaved and shaped to fit an agenda that doesn't want you to know the full truth. So there's some truth there, it's not a totally unadulterated lie. To me, those kinds are sometimes even more insidious, even more dangerous and damaging.
But it's not the unbiased, unvarnished, "unspun" truth. It's "brought to you" by someone. It's "genetically modified" truth from the sponsors of the broadcasting network or the owner of the publishing empire. So it fits their desire that you see things a certain way. It looks pretty much true; handsome men and beautiful woman are there to tell you how it is. But much of the picture is left out.
In a few weeks I'm (by God's grace) going to be taking a trip to a part of the world that is in the news every day. I have many hopes for this trip. But one of them is to be able to come back to my friends here in the States and to tell them plainly, first hand, "This is what I saw and what I learned". Because they seldom if ever hear that. We're told what the powers that be want us to know.
And I'm not talking about the government here since we have an ostensibly free press. But I've had to, over and over again, speak to my Christians friends to tell them my personal experiences outside the United States. And often this has meant I've had to break the stereotype my friends have been feed through the media and the websites they get their info from.
What can we do? "Hunger and thirst after righteousness" (Matthew 5:6), that's what the Bible says. Be desperate for the truth, like the Berean's were in Acts 17. "These were more noble that those of Thesallonica in that they searched the Scriptures daily whether these things are so." (Acts 17:11)
Let me tell you, friends, "we" are not always right and "they" are not always wrong. If you want the truth, strive to get a full picture, even if you have to go to websites and news agencies that may not be what you would consider part of your group or your people.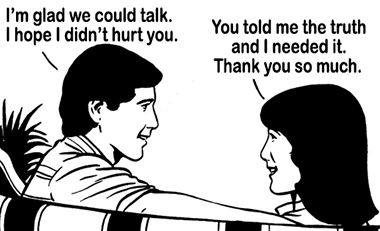 Have you ever had someone you thought was your "enemy" say something to you that hurt, but you knew there was some truth to it? Something your buddy-buddy friends didn't or wouldn't tell you? That's sometimes how you have to find truth, even from someone not of your camp or group. And today America is so very divided that most folks won't begin to believe anything they hear unless it comes from "their side". That's a bad sign.
In Old Testament times, Isaiah said of the people of his day, "Who say to the seers, 'See not'; and to the prophets, 'Prophesy not to us right things, speak to us smooth things, prophesy deceits.'" (Isaiah 30:10). Just before the destruction of Jerusalem, Jeremiah said of those then, "The prophets prophesy falsely and My people love to have it so." (Jeremiah 5:31) Probably there are many millions like that today. They don't even want the truth; they'd rather have the pleasing lies, the "smooth things" and so they remain in their stupor.
"Hunger and thirst after righteousness." Realize that you are being heavily propagandized every single day. You may be concerned about the food you eat; how about the news you believe?
I look forward to being back here here from my trip and being able to share with my friends first hand experiences from real people that are in the middle of what we see on the news every day. I hope to be able to share what is really happening, what also can be done, what God is doing there and what those people really need.
Truth is a precious thing. Without truth, we may not be lost when it comes to our souls, if we are saved and believing in Him.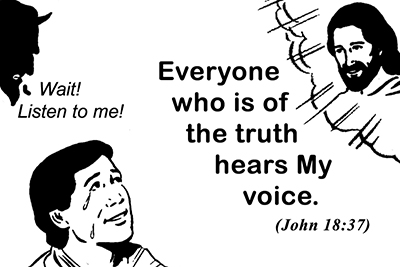 But we can be walking in darkness and deceived in a major way if we just drift with the tide of what we're told here daily, not only by the main stream media but by extremists with their own agendas.
Jesus said, "Everyone who is of the truth, hears my voice." (John 18:37) May we all be desperate and searching for what is actually true and real in these dark and desperate times.