I have a number of links and/or experiences in and with the Islamic world including some near relatives. From this I've come to a generally different view, as compared to what is considered the normal North American Christian view of Islam and Muslims.
So even writing about this is kind of "skating on thin ice". But I'll share my heart, while realizing that this will upset people on both sides of the divide, so to speak.
This has been prompted by the murder this week of over 100 children in Pakistan. It was perpetrated by the Taliban, Muslim against Muslim. But the shear barbarity of the massacre, the utter heartless, meaningless slaughter of innocents is beyond anything that qualifies in any way whatsoever as justified, in any form or theory or even more so, in any religion.
I've entitled this post, "Where is a Saladin?" Very few will have any idea what that means. Perhaps those of the Muslim faith will. I'm not hugely informed on these things, only marginally so. But to those who don't know who Saladin was, he was the leader of the Muslims forces at the time of the Crusades, when the Crusaders came down from Europe to try to retake "the Holy Land" for "the cause of Christ".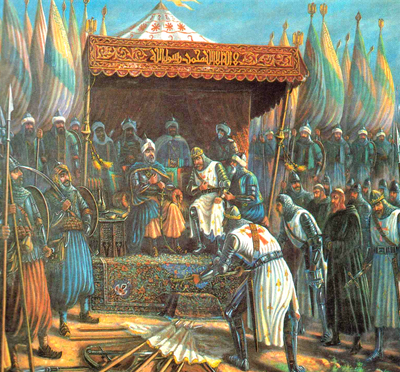 It was such a time of infamy that I won't get into it here. But from almost all historical accounts, the nominally Christian crusaders encountered in the leader of their foes, Saladin, a man more humane, gentlemanly and civilized than they themselves were. No, I'm not siding with the Muslims against the Christians here; this is the verdict of historians and the people of those times. The "heathen, barbarian infidel" had more character, maturity and even Godliness than the marauding Crusaders.
The Frenchman René Grousset, who wrote a history of the Crusades, wrote of Saladin, "…his generosity, his piety, devoid of fanaticism, that flower of liberality and courtesy which had been the model of our old chroniclers, won him no less popularity in [European Christian] Syria than in the lands of Islam."
My question is, and I pose this as a friend and in acknowledgment of the many good qualities I've experience in my interaction with Muslims and Muslim nations: where is a Saladin today? You could be quick to say that I should be taking to task my own people instead of those of the Muslim faith. I've done that on occasion, you can read about one example here in this article, Hawks and Doves.
But sincerely and with hope, I so much wish to see a strong … is "uprising" the word?… or something coming from the decent, concerned Muslims of the world to truly stand up with horror and outrage at some of the things that are being perpetrated in the name of your religion. And some of my Christian friends may wonder at this point:
"Mark, are you calling on the Muslims to follow their Mahdi? The one the Koran prophesied would come?"
No, actually I'm not. It's a matter of empathy with a battered and almost defeated people, a people not my own, who are being defeated from within at this time, not really from without. In our times there have been Churchill, Gandhi and even Nelson Mandela who arose to, in a sense, save their peoples in times of great distress. These Islamic people, with devotion towards the God of Abraham, need leaders to help save them from their enemies within at this time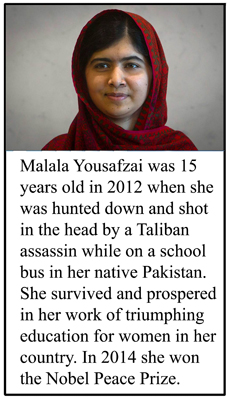 Maybe here in the insular bubble that's imposed by the American media upon its people, we're just not hearing about the outrage and the groundswell rising in the Islamic world against these unspeakable outrages that are committed daily by people calling themselves religious and Islamic. If this is already going on but I'm just unable to find out about it since the American media doesn't tell us about it, please get in contact with me. I do want to know about it.
But if there is apathy, fear, fatalism or indifference in the Islamic world to what has virtually taken over the name of Islam and religion in our times, then my question rises again. Where is a Saladin? Where is some mature, compassionate yet angry and animated leader within the Islamic world who will lead his (or her) people to stand up against this horrible filth that is done in the name of the God of Abraham?
Someone has said one time, "All that's necessary for the triumph of evil is for good men to do nothing." Why do the evil men of our day have more faith and boldness than those who stand for love and brotherhood, compassion and the higher things of the God of three faiths?
It really saddens me. Satan must be laughing with glee that not only is innocent blood being spilled every day, but that he is able to have it perpetrated in the name of the God of Abraham. What a defeat and besmirchment of the name of God for those who say they stand for and hold high the standard of God.
I don't have an answer to my question. It reminds me of what one of the ancient prophets said, Ezekiel. As the mouthpiece of the God of Abraham, he said, "I sought for a man among them to stand in the gap and make up the hedge, that I should not destroy the land. But I found none." (Ezekiel 22:30)
God looked for someone to "stand in the gap", to lead God's people to victory. But He couldn't find anyone. People like this are not only needed in the Islamic world. They're needed all over. To rally the people of faith out of their numbness, often their ignorance, out of their immaturity and up the mountain of faith, love and the light of God that could make them beacons to the nations.
To me, it's particularly pitiful currently what is triumphing within the Islamic world which (and they will know this) is so far distant from the many great accomplishments and heights of civilization and benevolence that have been seen in their history. With sincerity and respect, I hope your people will rise above the heart-wrenching times that are upon so many parts of your society.
May God, the compassionate, the merciful, raise up warriors of faith, love and humility to fight against the darkness that's engulfing their people now. Not with carnal weapons but with spiritual weapons of love and truth, drawing men away from evil. "Be not overcome of evil, but overcome evil with good".