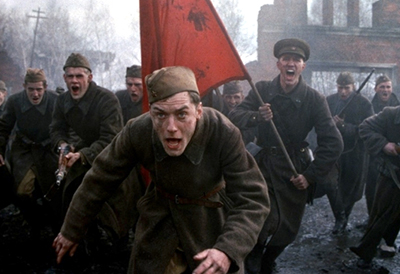 A movie I really enjoyed was "Enemy at the Gates". One reason is that I lived over two years in Moscow and in the Russian-speaking part of Ukraine. Knowing that part of the world, the people, the history and their sufferings, made it all the more moving to me. The subject of the movie is the battle of Stalingrad and I have Russian friends from Stalingrad, now called Volgograd.
It's based on a true story of one of the bloodiest, heart-wrenching battles of World War II. The movie shows that the Russians were so bad off that two soldiers were given one gun and a handful of bullets each,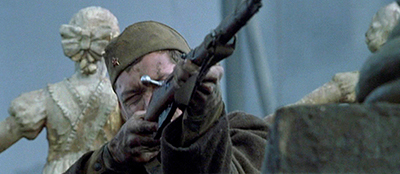 the idea being that when the first solder was shot, the second one was to pick up the gun and keep going. But the hero of the movie, played by Jude Law, grew up as a hunter with his grandfather and was a crack shot with a rifle. Lying motionless among his dead comrades in the battle of Stalingrad, Law uses his rifle skills to pick off Nazi officers at a distance during the battle. He actually gets pretty good at it.
It's an amazing story but then another layer is added. A fledgling writer of propaganda for the Communists finds out about Jude Law's beginnings of success. And it's not just the battle in Stalingrad they're losing; the whole Russian nation is utterly defeated and afraid spiritually at that time. They need heroes. They need to hear about a victory. So the writer begins to write up what the young sniper is doing to turn the battle at least somewhat towards the favor of Russia. And soon the nation is taking heart as they hear of a common soldier picking off the Nazi officers in the battle there.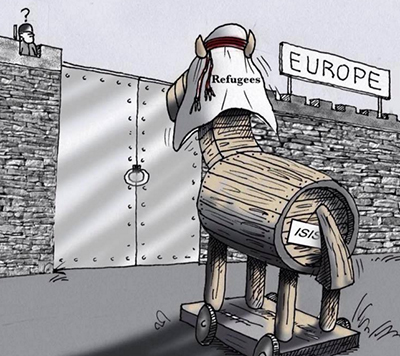 It's not meant to be a parable but today it became like a parable to me. "The enemy at the gate." How many times have we heard something like that in reference to the current refugee crisis in Europe? "They are sent here to invade us, to defeat us! They are the very forces of Satan, every last one of them! It's a Trojan Horse. We're doomed; it's the end of civilization! The enemy at the gate!"
Pardon me but that's a lot of hooey. It's sensationalist propaganda from folks often not even from Europe who have a political agenda. I've written about this in "Merkel's Call" and "Come, I Will Send You".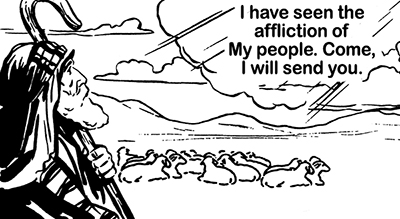 But right or wrong, many millions of people are very afraid, just as the Russians were over 70 years ago. Back then, just a tiny handful of sharp shooters had a major hand in turning a loosing battle into a victory, rather like the British aviators did in the Battle of Britain.
Is there any parallel to this today? Well, first, we aren't talking about sharp shooters, airplane battles in the sky and killing people. And we're not talking about Nazis battling Communists.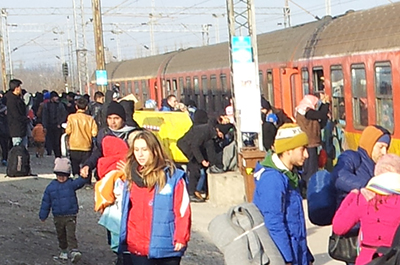 We're talking about millions of poor souls who've had it so bad in their home countries that they've risked their lives to cross land and sea, hoping to find refuge in Europe. What can any of us do? I've been with these people personally several times recently; here's a post about when I was on the Macedonian border with them a few weeks ago, called "Encountering Refugees".
In this case, I think what Angela Merkel has said is just incredible. She's said her people should show kindness, hospitality and love to these refugees.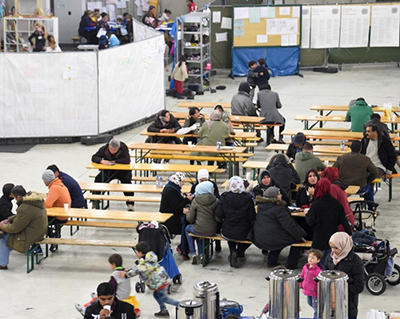 And some are doing that, I met and worked with them last month; this is what I wrote about in "German Refugee Camp".
How can those so many view as "enemies at the gate" be met today? By snipers? If you're a Christian, what's your greatest "weapon"? It's love. Wouldn't that shock and invigorate Christendom if a few brave souls plunged into the events of today and found that these "enemies", many of them at least, turned out to be our friends? Turned out to want what we have? Not just the material wealth of the West but the truth that the West was founded on long ago? That the Love of God in Jesus was and is all that it's said to be. That might alter the mood of whole nations to hear some good stories of the love of God and the love of our neighbors actually wining out over the hatred and fears we've been taught. That's what I was personally seeing and experiencing last month at the refugee camp I was in in Germany.
"Mark, do you really believe that? Do you think love is going to win out in all this and that everyone will put down their antagonism and love one another? Come on; get real!"
Maybe not; maybe all of Europe is not going to come around to love and accept this flood of refugees. And probably not all of them are going to be humble and thankful for the help they are receiving.
But I know some will. Some will find that there are good and kind Europeans, even ones who come with the love they have from God. And there will be changes of minds and hearts; there will be miracles of love because that's happening already. For some, this is their hour. How it all will play out, I don't know. But if ever there was a time for Christians in Europe to show love to those who need it so much, now's the time.
In Stalingrad, it only took a few. But it changed the course of history and invigorated the Russian nation. May God in heaven today find those in these times who will answer His call in this hour and turn this crisis into a mighty victory of His love and truth.