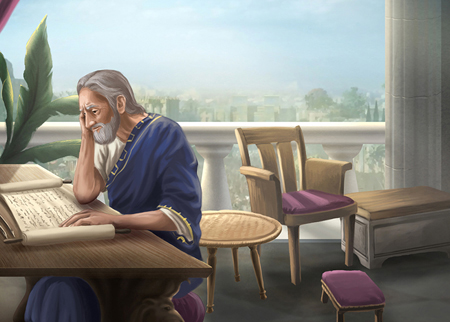 We continued, last Sunday, the Bible study I've been doing with friends at an adult Sunday school class on the book of the prophet Daniel. This time we went over perhaps the most difficult but also significant passage in Daniel, chapter 11. I took some time in prayer the night before to really look to the Lord about the class and to try to find the best approach in sharing it. The live class audio on Daniel 11: verses 1 to 35 can be heard here.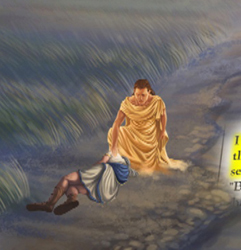 The three last chapters in Daniel seem to be one continuing event, unlike the other chapters before them. So Daniel 11 picks up the narrative from Daniel 10 of what happened next after Daniel's incredible experience with an angel or possibly angels who had a real job on their hands in strengthening Daniel sufficiently enough to be able to receive this final mighty revelation in the book.
In prayer the night before the class, the Lord laid it on my heart to start out by stepping back a bit at the beginning in order to try to share with the ones in class what are actually the most important pillars that make up the framework of yet-to-be-fulfilled Bible prophecy. I won't go into the details here but we started out with the greatest Teacher of them all, the Lord Himself. When asked about His second coming, Jesus gave three very distinct points of importance. Those can be found in Matthew 24:15, 21 and 29-31. I went over these before in the video on Daniel 9:27, how that they could be boiled down to "When…", "Then…" and "Immediately after…".
And we saw from Matthew 24 that Jesus clearly and emphatically pointed us back to something in the book of Daniel , telling us "whosoever reads, let him understand". (Matthew 24:15) And what Jesus was pointing us to is found most clearly in Daniel 11:31, from the chapter we went over on Sunday. Well, if I get into too much detail here, it will become quite a long blog post. But I'll add the four other pillars of prophecy that I shared with the class on Sunday: Daniel 8:11, Daniel 9:27, II Thessalonians 2:3 & 4 and Revelation 13:5-7.
I'm very aware that for some people this can just be too much. Bible prophecy is not everyone's cup of tea. I think the Lord has to bring it to someone's attention and show them the importance of it. Otherwise it can seem tedious and just too difficult to understand. So I've really tried in these classes to break it down to bite-sized pieces as much as possible and to continue to aim at those who are new to the subject, rather than the ones who've been studying it for years.
Also in working on this Daniel 11 class, I realized again that the best way to present this is in the format I've used for the videos on the prophecies of Daniel series. The live class format, like on Sunday, has the advantage of spontaneity and the interaction that goes on between the teacher and the class. But for this chapter, the material is so meaty and yet so significant that I've been realizing that Daniel 11 really needs to have a class that is scripted beforehand so that the very best way can be found to present the chapter to the general public.
When I read again the buildup to Daniel chapter 11 that was to been found in Daniel 10, the effort in prayer by Daniel and the effort in the spirit by the angels, as well as the opposition of Satan to this message even getting through, it was even clearer that this is an incredibly important part of the prophetic picture that God has given to us in His Word. And to top it off, Jesus Himself points us to this chapter.
For now, this live class audio hopefully will be a blessing to those who are ready for this rather advanced Bible prophecy class. And this has also been a tug on my heart to try to get the last 3 chapters in Daniel into video classes at some point in, hopefully, the not too distant future. The live class on Daniel 11, verses 1 to 35 can be heard here.