Don't you just hate it when someone lies to you? It's one thing when you catch it right away but even worse when they've lied to you for a while and you finally find out. I always figure the Lord gives us a measure of discernment and often we'll detect a lie immediately. But not always.
Years ago in Scandinavia I'd begun meeting together with (what I thought was) a young man, perhaps around 20. "He" seemed interesting in the things of the Lord and we met together a few times before I didn't see them anymore. Later I found that this was actually a young woman who'd probably had a great time deceiving me into thinking she was a male. I have to admit this somewhat stunned me that I'd been tricked like that and also that someone would be so deceptive.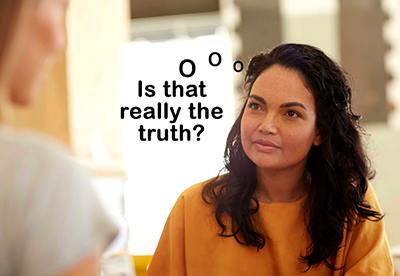 I've had one other experience like that in another part of the world. A young man befriended me and my Christian friends and began to come regularly to our classes. He came from a wealthy, prominent family in the capital and seemed to have it all when it came to the physical. He helped us in our work with the poor and in many ways began to work besides us for months. But somehow this dear man seemed to find joy in telling stories of his past accomplishments that just were not true. He was pretty good at it and because of his background, none of us thought to just really dig into it and find that he was lying.
It was really pitiful because this young man had many good qualities and there was no need for him to try to pull the wool over our eyes with tall tales. But he did. At length it was all found out and he was embarrassed, ashamed and left our company. It was again kind of startling to me that someone would tell lies for so long to people who had sincerely become his friends and who really loved him. Also he had been through many Bible lessons and prayers and had been treated as someone who wanted to pursue a path of Christian discipleship.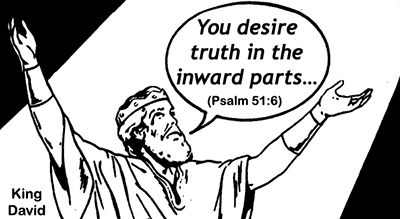 As I've written elsewhere, truth has always been important to me. King David in Psalm 51, said to God, "Behold, you desire truth in the inward parts, in the hidden parts you shall make me to know wisdom." (Psalm 51:6)  It's almost like an unspoken given among Christians that we speak the truth with each other. We may not tell everything of our lives to every person. But at least we realize that truth is the true coinage of the realm of Heaven and that lies, deception and confusion should have no part in our lives.
I was thinking about this tonight in relation to being back here in America and (seemingly at least) how very hard it is to find the real truth here on so many things. Of course we who have the Lord have the truth of His Word and through prayer we can access Him and "the Spirit of Truth" (John 16:13), as Jesus called the Holy Spirit. But once you're anywhere outside the realm of heavenly things, knowing what the truth is here is not easy. The Bible says, "God is not the author of confusion" (I Corinthians 14:33). But here there's a tremendous degree of confusion and deception as so many news outlets compete to tell you their brand of facts and truth.
It really seems like a great confusion has settled upon this nation, so much so that most people no longer even try to dig down to find the unbiased reality and veracity on any subject. It's just seems too difficult. So most choose some source to get their information from, often knowing that what they're being told is almost always seriously tainted with a bias from some special interest group, trying to influence and control the population through their particular narrative.
I met a friend yesterday, a former missionary, who now really rails against the government here and how "they" are out to get us and to enslave us all. Fear of powerful unknown interests who control and orchestrate virtually everything from behind the scenes is a viewpoint held by many millions here, including many sincere Christians. But in talking with this friend, almost immediately there were some things he'd say about current world conditions or this country that I knew to be just plainly not true from a facts-based assessment. But I didn't engage him on it as I knew he would just get mad at me for not agreeing with this point of view he felt so strongly about.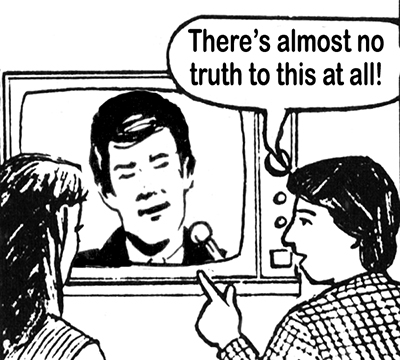 Friends, I don't have a really great "happy ending" to this article. We who believe in God and the Bible know where to get our eternal truths and verities from: His unfailing Word. But when it comes to the truth as to what's happening in our world or our nation …well it reminds me of what Jesus said, "If the light that be in you be darkness, how great is that darkness." (Matthew 6:23) We seem to be the most informed and knowledge-saturated people on earth. But so much of what we are "fed" through the media and on line is just as insidious as the worst junk food bought at the sleaziest restaurant.
I'll try to end this with at least some ideas and hope. Get your information from more than one source. If you know your main news source is predominately "left wing" or "right wing", try to find what the more reputable sources of the other viewpoint are saying, just in order to try to find objective facts that your favorite sources aren't telling you. I even access the "main stream media" which is so often so reviled. The reason I do is simply because they have some reputation to uphold and they're held accountable in ways that many fly-by-night, shoe-string budget alternative information sources never are.
Maybe it's like Pilate said to Jesus, "What is truth?"  (John 18:38) In this day and hour, finding credible sources of truth about our current world and its condition is often a real labor. But it's worth the effort. Don't settle for the "shock jocks" and the spin masters to be your info source. You could even ask the Lord to help you discern these things and to help you not settle for news and info that you feel may be much less than "24 carat gold". May God bless you as you search through the confusion of these times to try to find accurate information on which to make the decisions needed in these perilous times. God bless you.