Elisha and his helper were surrounded by the forces of the enemy. It could have hardly looked more dire. But then that crazy prophet told his helper to look up, that "They that be with us are more than they that be with them". (II Kings 6:16)
"What are you talking about Elisha?! We're surrounded by our enemies!"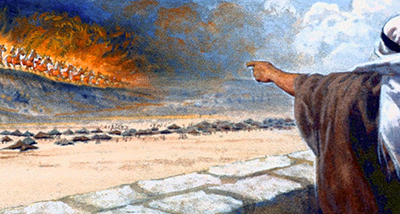 But as the young man looked up, he caught sight of the spiritual realities around him and saw the host of heaven that were with him and Elisha at the moment. And as it turned out, he and Elisha were saved from that situation.
This morning, after hearing of the tragic mass shooting in Paris, France last night, I thought of this verse and these events recorded in the Bible. They that be with us are more than they that be with them. But it was with a different thought to it. I thought of the millions, tens of millions, perhaps hundreds of millions of Christians in Europe and in the West right now, the multitude of people who to one degree or another think of themselves as Christians or believers in God.
If 5% of those people, or even better, 10% or 20% of those people determined in their hearts that they were going to not let fear conquer them but that they were going to turn from religious spectators to Christian disciples and activists, think of the multitude who would begin to get actively involved in reaching out to the multitude of souls recently come to the West from the Middle East.
Right now the people of the West are being inundated with fear. And they're further immobilized by a lack of vision and initiative to know how to respond to this new development in these nations. But just think how it would be if there was a groundswell of individual Christian initiative to share the Love of Christ with these ones coming here. Just imagine how it would be if millions of somnolent Christians awoke and began to share their faith with those around them, Muslims or otherwise.
They are coming as refugees to Christian lands. Their own nations are so volatile and often collapsed that they travel overland to find some place to live. And yet we fear them? What a pitiful testimony of the spiritual condition of Western Christendom that so many are so weak, unprepared, untrained, un-envisioned to see this incredible hour of opportunity.
That's what it is. I don't know if this will happen. But I believe it could happen if someone will challenge the Christians of the West to fight back against… not the Muslims but their own fears and their often-weakened Christian condition that's prevailed for so many decades in much of Europe. Just think how it would be if multitudes of Christians at the grass roots level across Europe said to themselves,
"OK, this is it. God needs me right now to actively live for Him like I never have before. I need to know what I can do. How can I get involved? How can I love these people with His love, to show them I care about them and that the things of Jesus are real and true?"
I've heard it said many times about Muslims, "They don't want to know about Christianity. But often they do want to know about Jesus". So how can the people of Jesus individually engage with individuals who've come here as refugees? This is where and how things can change, not with politics or police or governments but with the people of Christ being more alive than they have been in generations so that each one can do what they can.
And each one actually can do a lot. They first can determine to do so. They can pray heartily to God to lead them in their local situation to find out what they can do. They can work with others who are similarly minded.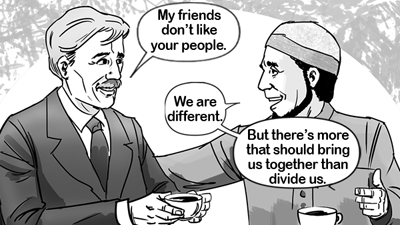 Talk with refugees. Get to know individuals. Invite them to dinner or have dinner with them. Get over the stereotypes and get to know individuals. It will probably challenge your faith. They may have questions you don't immediately have answers for. You may have to search the Scriptures or ask help of others.
But if this was happening on a grand scale across Europe and the West, I'm just convinced that the "polarity" of all this would change. God would just bless it. Lives would be drastically changed. This is the essence of how the world came to Christ in the first centuries. And if we even marginally made the same efforts again, then we would see results in the way of changed lives that would leave us speechless.
They that be with us are more than they that be with them. Doubtless the mighty God of Abraham is ready to help, aid, empower and bless those who stand up for Him in this hour of need. All He needs is us. Oh, pray that there will be ones who decide to do what they can to turn the tide in these amazing times. "Be not overcome of evil, but overcome evil with good." (Romans 12:18)